Quince Imaging &

the Evolution of Image Projection
Founded in 1997 by Ron Currier, Scott Williams and Adrian Gautchsi, Quince Imaging has evolved from humble beginnings as a live-event projection display company, into an experiential display and design powerhouse.
Check out the following timeline for an overview of Quince Imaging history and the intertwining evolution of image projection.
Image Projection Beginnings
We find references to pinhole cameras, projecting images of their surroundings, dating back more than 2,000 years to ancient Greece and China. In 17th-century Europe, candles and oil lamps were used as light sources for "magic lanterns" that projected images, painted on glass slides, onto larger surfaces.
Going back some 80 years
People started using slide projectors to transform concert and theater stages. Productions on Broadway and in London's West End dabbled with projection as early as the 1930s.
The 1960s & The Imagineers
At the end of the 1960s, the "Imagineers" of the Walt Disney Company started applying projection technology to small, very focused surfaces. For the Haunted Mansion ride at Disneyland, Disney's creative engineers shot the faces of five actors singing the attraction's theme song and then projected the 16mm film output onto busts.
Quince's Foundation
Quince's Founding Three lay their foundations in the industry!
Career Highlights:
– Ascension of Pope John Paul II
– Founder: Currier Imaging
– 1996 Summer Olympics
– VP & GM at SAIC
– Chief Engineer for the Eidophor
– Chief Engineer, SAIC
Lots of First's
First to deploy video displays for television backdrops. First to activate a high-definition large-screen display to a live, viewing audience. First to activate video display on a 'human' screen. First to provide a 10,000+ Lumen Video Display to a live audience.
While artists found ways to push the limits of slide projectors, the introduction in the 1990s of bright, computer-driven commercial projectors was a big moment for the art form. More brightness led to greater possibilities, and ideas constrained by limited light started to get switched on. Computer graphics then sped production and made full-motion video and graphics possible without film.
QUINCE IMAGING is born!
By the mid-to-late 1990s, corporations started working with staging and event companies to use projection as the powerful, over-scaled backdrop for presentations to investors, customers and the press. Staging companies began retaining projection technology in rental inventory, allowing fast turnarounds on events while controlling costs for event producers. Over time, corporate presentations evolved and started to include product launches and splashy events that also let the general public see these ambitious shows projected onto flagship stores and public landmarks.
New Evolution
As the equipment became brighter, portable and more rugged, mapping outdoor structures evolved beyond simply projecting onto large buildings as screens. Instead, intrigued artists started looking at the shape, contours and colors of a structure and began experimenting with architecture, infrastructure and technology to create an "immersive" projection experience.
Quince Imaging was first to provide TRULY seamless widescreen video and first to provide 18,000+ Lumen Display.
Growing Storylines
Many of the best and most active event production companies now have years of experience. Projection tools and technology are steadily getting better, and more visual artists are finding their way to this medium, intrigued by all the possibilities. Great projects now have storylines and visuals that flawlessly work without limitation on nearly every imaginable surface!
Quince in the NBA
Quince Imaging was first to project on a basketball court in 3D. The first-ever 3D image projection demonstration was mapped for the Brooklyn Nets Grand Opening game at Barclays Arena in 2012.
Creative Services Team is born!
As the sports projection craze took off, so did the need for dynamic 3D content. Recognizing the opportunity to add value to their service offerings, and eager to meet and exceed client needs and expectations, Quince Imaging began recruiting exceptional new talent in the form of video producers, graphic artists and 3D animators.
First Permanent Install
First Permanent Sports Projection Image Mapping System installed for the NBA. In 2014, Quince Imaging was selected by the Philadelphia 76ers, Cleveland Cavaliers and Atlanta Hawks to design, install and maintain the league's first permanent court-projection systems.
Clips of one of the first Cavaliers' games were shown on the Today Show, all over the Web and across social media platforms, which made it one of the first Quince events to go viral. Click the link above to view the content!
Quince in the NHL
First Permanent Sports Projection Image Mapping System installed for the NHL.
Quince Imaging installed the 3D projection system at the Prudential Center for the New Jersey Devils.
Real-time Interaction
The First Discrete Motion Tracking System was installed to enhance Sports Projection Image Mapping Systems with interactive court projections. The Cleveland Cavaliers were the first team to implement discrete, full-court, real-time tracking of individual players. The system was set up to track the Cavs starting lineup while interacting in real-time with the court projection system.
Published by 2KSports
Quince Imaging designed the 3D digital court projections for all 30 NBA teams for basketball simulation video game, NBA 2K17, published by 2K Sports.
Two Decades of Success
Quince Imaging celebrated 20 years of success and dedication in world-class imaging display and design! Starting out humbly as "Two Guys and a Projector", surmounting two decades of providing services for nearly 400 live events per year, Quince has acquired the talent of more than 40 full-time employees. Now functioning in a multinational market, Quince is pleased to serve clients all throughout the United States, Canada and beyond.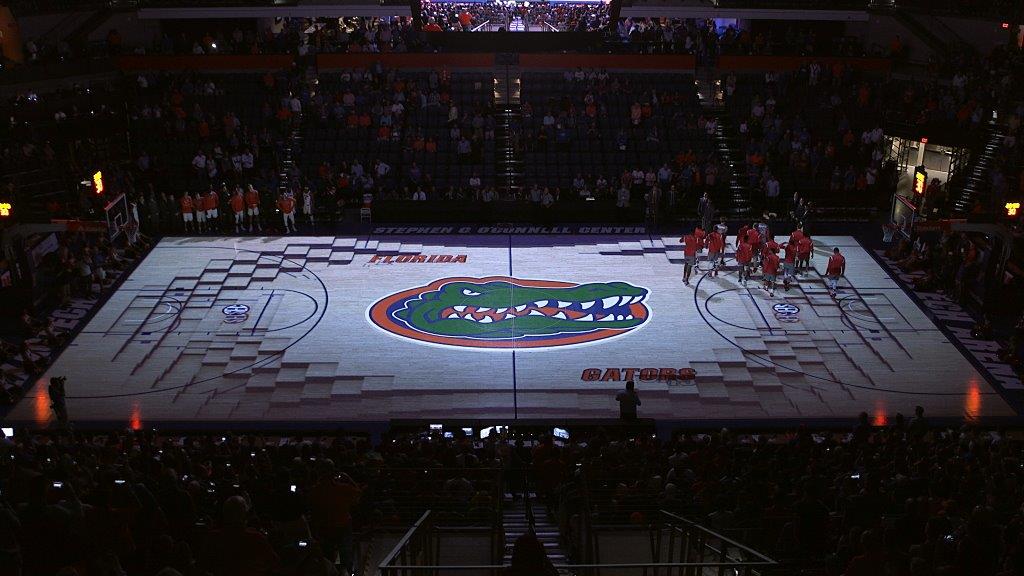 Another First - University Installs
First Permanent Sports Projection Image Mapping System was installed in a University Arena for the University of Florida Gators. The four-array projection system, is able to multitask and handle variances in sporting events, which especially benefits Gator men's and women's basketball games, volleyball matches and gymnastics meets.
A New Space
Quince Imaging relocates to spacious, new corporate headquarters at 22601 Davis Drive in Sterling, VA. The new facility, which occupies a total of 45,000 square feet has more than doubled available floor space, creating unique opportunities to provide custom accommodations for Quince's rapidly diversifying client base and expanding staff.
Our Vision of the Future
Progressing beyond our 20th season, we have had the opportunity to reflect on our dynamic history. We are fortunate to share and celebrate this milestone with our team of dedicated staff and valued customers and associates. The live events business has evolved throughout these two decades and continues a rapid development to a much more service-based model.
When Quince began, what we had in available inventory was a significant factor in gaining new business. While technical prowess and/or service was important then, it was not necessarily the defining characteristic in choosing an event partner. Still, it's important today to own, maintain and leverage up-to-date equipment and systems. However, current primary factors for growth in our business are to provide expert technical design; incorporate unique content; and deliver savvy and experienced on-site engineering.
What can you expect from Quince Imaging? We are only just beginning to scratch the surface of the methods that imaging technologies employ to genuinely engage, thrill and interact with live audiences. We will continue to bring forward new and interactive activations that not only impress with their impactful content, but evolve in real time to synchronize with viewer response. The entirety of each event space will be challenged to keep up with the power of malleable imaging and communication.
-Scott Williams, COO & Co-Founder, Quince Imaging, Inc.